How to Choose Best HIPAA Compliant Telemedicine Software?
When healthcare providers switch to remote facilities, they have been looking for the right software to comply with the COVID-19 guidelines, while still keeping in mind the protection and privacy of their patients. Telemedicine software allows clinicians to communicate with patients via online video, which has historically been useful for practices with scattered rural populations, providing access to specialists beyond what is accessible locally. In such cases, it can be difficult and even risky to drive to the practice in patients with pre-existing health conditions.
As a result of the COVID pandemic on Emergency Department, this has become an increasingly common choice for patients who are unwilling to come to the Emergency Room for more frequent complaints, as well as for those practices operating with shortened or even closed hours. Also, telemedicine options are often immediately accessible and available 24/7, making this an appealing choice for patients seeking treatment.
How to Choose Best HIPAA Compliant Telemedicine Software?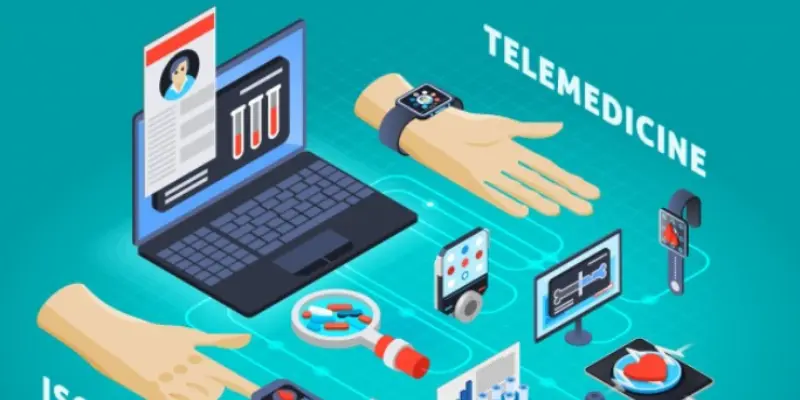 Developments in IT and mobile technology mean that telemedicine software platforms have become more accessible and more capable. The use of telemedicine software will allow physicians and physicians to participate in live video chats with patients, answer questions and concerns, and diagnose their illnesses. It includes applications that allow healthcare providers to reach out to patients who are unable to travel or who are located in rural areas.
It can also enable physicians to remain practically present at the patient's bedside or in the ambulance during an emergency. Telemedicine solutions also allow researchers and pharmaceutical companies to carry out clinical trials and provide rapid, better, and convenient testing on different subjects.
Telemedicine software is designed to be easy to use, both for physicians and patients requiring assistance. You're free to use the kind of app or software that best suits your needs. However, although the types of telemedicine systems may be diverse, it is important to consider one key factor when deciding which one to adopt: whether they are HIPAA compliant. HIPAA-compliant telemedicine services also provide more protection to the patient's electronic health records.
Privacy is a general problem in the field of healthcare, and telemedicine can expose privacy by digitizing the patient file. Without proper security, these files are at risk of being disclosed. Here we have mentioned some essential features to look for in a telemedicine app that can help you pick the best easily.
Important Telemedicine Software Features To Look For
The telemedicine software that you use should be consistent with the workflow that you adopt. So here are the features of the telemedicine software's that you need to consider before choosing the one that suits your business.
1. Online Appointment Calendar
Make it easier for you to keep an online appointment calendar so that you don't miss a single appointment with your patients.
2. Unlimited Online Video Sessions
You should be able to hold unlimited online video sessions to have the best patient experience.
3. Technical Support
Technical support should be accessible immediately if you get lost somewhere when using telemedicine apps.
4. Intuitive Dashboard
You should provide an intuitive dashboard that is easy to use and offers the details you need at a glance.
5. Secure Document Sharing
There are different medical and confidential records that you need to share with your patients and associates. Your telemedicine program can ensure the safe exchange of information.
6. High Definition Video Quality
High definition video quality should be provided to ensure an outstanding patient experience.
7. Payment Processing
You should be able to accept payments online, making it easier for patients to pay in the mode of their choosing.
8. HIPAA Compliant
You should be HIPAA compliant and therefore be able to store patient information with high confidentiality.
9. Reporting & Analytics
Support to provide comprehensive reporting and analysis of circumstances to make informed decisions for the future, helping the healthcare organization expand. You can also read about telehealth tips for providers.
So now that you have full knowledge about the features you need to look for when choosing telemedicine software, it will be easier to pick open-source and free telemedicine software for your company from the list below.
Best Open Source HIPAA Compliant Telemedicine Software
1. Doxy. me
Doxy.me is a quick and easy-to-use telemedicine app. All you need to do is build your virtual room with this program and start offering telemedicine services to your patients right away. It is a HIPAA-compliant app that is highly safe for storing information about the patients and their treatments.
Its features include:
Facilitates the provision of limitless consultation sessions and minutes to patients
Provides a custom URL to your virtual space
Supports the audio/video feature
Works for iOS and Android devices
HD video call is possible
2. Intelehealth
Intelehealth is an open-source telemedicine program that allows local community health professionals in remote areas to offer primary care to patients in their communities. This system provides a smartphone app for health staff and a cloud-based electronic health record system as a backend.
Intelehealth telemedicine applications can operate well in both low bandwidth and offline connections. Its feature includes:
Allows the transmission of medical data to remote physicians via audio and video consultation, even if a low bandwidth link is available.
Can use low-cost equipment for diagnostic point-of-care tests
Allows the transmission of prescriptions and medicines
Enables proper coordination of referrals to direct patients to the appropriate next step of treatment.
Includes video tools for patient education and counseling.
Facilitates the reporting of data.
Can be used for longitudinal patient care through electronic health records.
3. MendFamily
MendFamily is the leading telemedicine & digital patient intake platform specializing in solving the problem of no-show clinical appointments. It can change the way you communicate and interact with your patients. You can now send text and e-mail reminders, allow your patients to schedule themselves or reschedule their appointments with the help of this top telemedicine software.
Being HIPAA compliant, it can keep patient information secure and deliver instant revenue growth to your health care business. Its feature includes:
Requires video conferencing between patient and healthcare provider
Can give an automated appointment reminder
Patients can access a virtual health center from any smartphone.
Allows patients to self-plan and reschedule their appointments.
Facilitates patients to fill out the forms seamlessly.
Final Thoughts about Telemedicine Software
Starting the practice of telemedicine is a crucial move for every healthcare institution or practitioner. It needs good strategic planning and careful selection of the top telemedicine tools that can make it simpler for the staff and provide an excellent patient experience.
Flawless telemedicine software that is up-to-date and law-abiding is needed to operate a profitable healthcare company with planned income. We hope that the above information about free and open-source telemedicine software for providers along with the famous one will ease your task of selecting one for your company.