Hospital billing is a time-consuming and challenging procedure. Insurance companies, medical care, physicians, and the government have made it difficult for patients to navigate the system. Medical billing processes and procedures, on the other hand, follow basic standards that can help to clear up the uncertainty.
Overcharging to negotiate the overall expenses is one of the most popular strategies. Hospitals and doctors frequently charge enormous fees for routine procedures in anticipation of dealing with insurance companies.
But first, let's look at why this happens, how it happens, and what you can do about it.
Process of Hospital Billing
First, let's take a look at how hospital billing works. Medical billing procedures and processes can be divided into eight simple steps:
• Application Forms
• Establishing financial accountability for the visit
• Check-in and check-out procedures for patients
• Examining coding and billing compliance
• Claim preparation and transmission
• Payer adjudication is being monitored.
• Creating patient bills or statements
• Assigning patient payments and coordinating collection efforts
• Registration process
When you schedule an appointment, you are pre-registering with your doctor. If this is your first visit to that doctor or provider, you will be asked to supply personal and insurance information to begin the appointment.
Developing Financial Accountability
This stage of the procedure determines how much money is owing for the visit. That will also aid in deciding which insurance policy covers services. Remember that insurance coverage varies, so that it might be not cover your services and prescriptions.
Check-in and Check-out of Patients
During check-in, you submit your entire personal and insurance information to the front desk . Your medical report will be generated during check-out and sent to a medical coder. That is converted into medical billing codes and procedures, and a superbill is developed and delivered to the medical biller.
Examining Coding and Billing Compliance
Claims must meet specific fundamental requirements, including the patient's information and the operations performed. When mailing bills, billers are accountable for adhering to billing compliance rules.
Claims Preparation and Submission
Claims are submitted under the requirements of the biller.
Decision-making
The adjudication procedure requires a payer to analyze a medical claim and determine whether or not it is compliant. The insurance company is usually in charge of this. A claim may be approved, denied, or rejected at this stage.
Observation
The statement is subsequently sent to you, the patient, after this lengthy process. In some cases, you will also receive an Explanation of Benefits.
Collections
Once the bill is received, the patient's responsibility is to pay any remaining balance that the insurance company may not have. If the bill becomes late, it will be forwarded to a collection agency for further action.
What is the difference between hospital billing and professional billing?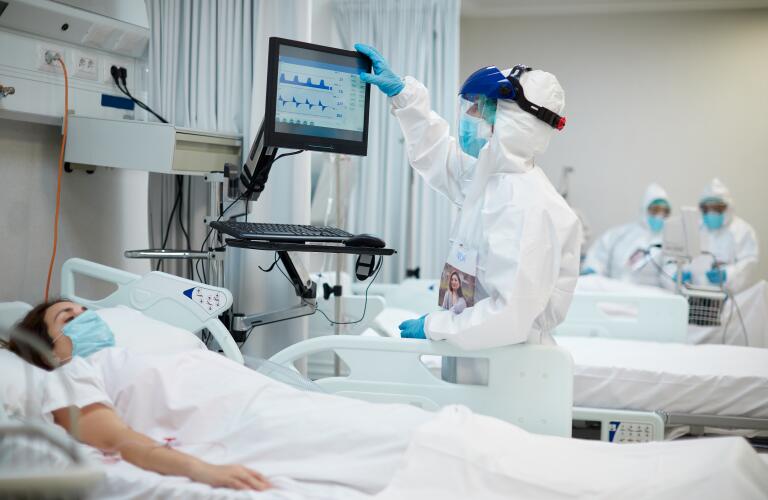 Frequent Medical Billing Processes and Procedures
While the preceding describes the billing procedure, the expenses connected with your medical bills and coverage can vary greatly.
Providers charge patients based on what they trust rather than the expenses of providing care. Personnel, equipment, and pharmaceuticals are not the factors that influence the final bill.
Other factors are utilized to negotiate the ultimate cost you'll see on your statement with insurance carriers.
These are some examples:
Demand and Supply
Provider and Healthcare Systems, like any other service, frequently use demand for their services to set costs. Increased demand often leads to a more significant medical bill.
Hospital capacity
Hospitals with a more significant number of beds can provide more services. That, in turn, can lower the prices of nearby hospitals because they offer more coverage than their competitors.
Reputation
Hospitals with a good reputation, numerous tributes, and recognition can typically charge significantly more for their services than other hospitals and providers.
Charge Description master
That is a master resource list used by medical billing specialists to calculate the cost of treatment at a specific hospital.
Because of a combination of the considerations mentioned above, hospitals and providers frequently charge a premium for their services and treatments. They also understand that insurance companies are mandated to cover specific operations to charge whatever they want and still be paid. However, there is another unspoken reason why hospitals and doctors charge insurance companies and Medicare/Medicaid.
Considering problems and other considerations into account also allows you to decide where to have your treatment performed. A patient's employer will even pay for them to fly to the lowest and highest-quality hospital or doctor possible in rare situations.
Interested to learn how RMB can help with Hospital Medical Billing? Contact US!
Written by: Kaynat Ishfaq
Author has been writing from last 4 years in Healthcare and medical billing field.
Other contributors:
Marketing Specialist, SEO Specialist, Content Writer and Social Media Marketing Expert
Revenue Cycle Management Consultant, Medical Billing & AR Audit, Free Standing Emergency Rooms, Micro Hospitals, Compliance, OON Negotiations, Digital Marketing